The Innovation
Exchange
The Innovation Exchange was launched in February 2022 to facilitate collaborative innovation in Ireland. Over 500 companies have engaged with the programme to date, and by 2025 over 1000 companies will be part of The Innovation Exchange. It is an initiative of Skillnet Ireland and is managed by Furthr.
The Innovation Exchange is a structured and managed ecosystem that connects innovators with innovation seekers, facilitating collaboration between companies and creating opportunities for business development and commercial success for all involved.
It is a marketplace where large corporates facing innovation challenges are connected with ambitious solutions providers with the skills to solve challenges and fast-track innovation.
Large corporates get access to collaboration opportunities with Ireland's most talented SMEs, accelerating their digital transformation. There are currently 27 corporate members of The Innovation Exchange, including Ryanair, Glanbia, ESB, AXA Insurance, Microsoft, IBM and IDA Ireland.
Scaling technology companies get an instant sales pipeline as well as access to prospective customers, market intelligence and the capability to sell to large corporates via bespoke training. Our SME members have deep expertise in emerging technologies such as AI, process automation, robotics, cybersecurity, digital communications and IoT.
Conor Carmody
Programme Director
Conor is a highly experienced business executive who has held senior management positions across all commercial disciplines in telecoms and retail functions. He is a highly professional, results-focused individual with strategic, operational and entrepreneurial qualities.
His core area of expertise is developing and implementing business strategies, mentoring and developing teams to deliver success with a clear focus on results. Conor has held a number of senior director level roles in the Irish Telecom Sector, heading up Marketing functions in Vodafone, Meteor and Eircom.
He is highly experienced in the areas of Business strategy, Commercial Strategy, Business Start Up, Marketing and Communications, People and Program Management.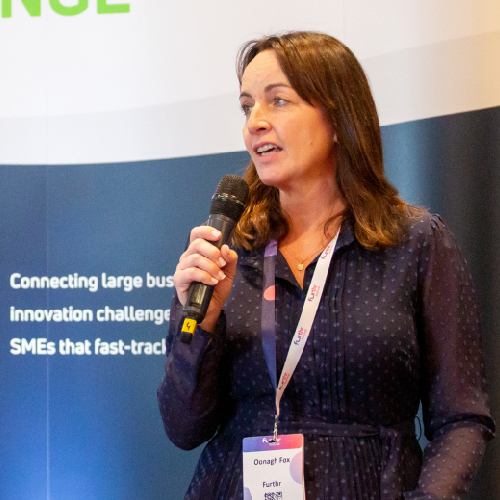 Oonagh Fox
Head of Communications
Oonagh works on strategy and communications for The Innovation Exchange. She is focused on policy and research and is committed to ensuring that The Innovation Exchange continues to increase its impact and influence to enable it to deliver results for members. She is a corporate communications advisor and has worked closely with Furthr over the past ten years. She previously held a client director role at Drury Porter Novelli, Ireland's leading public relations consultancy.
Sinead O'Riordan
Head of Channel Partnerships
A senior business leader who has gained broad experience working with start-up's, SME's and multinationals. Specifically focussed on driving individual, team and company performance, she has a track record in developing and executing company-wide Strategic Programs. Key strengths include Strategy Development, Operational Management, Innovation Programs and Partnership development. Sinead has graduated with a BA (Econ & Maths), DCS and an MBA.
Rachel Hubble
The Innovation Exchange Programme Coordinator
Rachel joined The Innovation Exchange in September 2022. She has three years' experience working with Start-up's and SME's having worked with Meath Local Enterprise Office in delivering a wide range of business supports.
Rachel holds a 1st class honours degree in Accounting and Finance from DCU and a Level 8 Certificate in Business Analysis from NCI. Rachel's current role is working with The Innovation Exchange as a Programme Co-ordinator.
Dick Bourke
SME Recruitment Manager
With several decades of creating and growing successful technology businesses, I delighted to now be helping the ecosystem of innovators in Ireland better connect solution providers with those seeking innovation. There is nothing to beat old-fashioned business networking and I am happiest when finding and delivering meaningful connections so delighted to do this with The Innovation Exchange. 
Jane Feighery
Head of Commercial Partnerships
As Head of Commercial Partnerships Jane designs valuable relationships with companies interested in supporting The Innovation Exchange ecosystem.
With 15+ years' experience in strategy, sales, and fundraising roles working with a diverse array of companies, sectors and markets, Jane brings a unique blend of purpose and profit-driven expertise to her work. Alongside her work with The Innovation Exchange Jane provides consultancy and coaching services to entrepreneurs in the development of their corporate Values, Vision & Purpose; honing the GTM proposition, and leading transformation projects.
Eugene Smyth
Director Corporate Relationships
Eugene leads our engagements with large Corporates in Ireland that are on the Innovation and Digital Transformation journey. Eugene has a strong background in Technology Investment and Enterprise Development. Following a career in FDI with IDA and Telecoms with Amdocs, he has been a management consultant in the Venture Capital industry for over 20 years and is a consultant on a variety of European Commission initiatives, including acting as a Jury Member for the European Innovation Council.
Sean McGrath
Corporate Partner Manager
Sean is an experienced Retail, Telecoms and IT executive who has held senior management positions in Ireland, UK, and Central / Eastern Europe.
Sean's core strengths include sales / revenue growth, business strategy development, transformation leadership, and coaching / people development.
Neasa Parker
Head of Customer Segments
Neasa works with The Innovation Exchange to refine the membership offering, to understand and support the membership base and to identify and execute growth marketing opportunities. She is a commercial marketing expert with 20 years + experience working in the Telecommunications and IT industries across Ireland and UK and most recently held the position of Consumer Director for Three Ireland. Her expertise lies in delivering large value P&L's, defining, and launching insight-led propositions, managing customer segments, leading high performing teams to deliver growth and establishing and running Customer Value Management (CVM) functions. She is an independent consultant supporting businesses across Ireland deliver sustainable revenue and margin growth.
Niall Hayes
SME Recruitment Advisor
Niall has extensive experience working in the technology sector working with both world-class blue-chip company and scaling technologies companies.
Niall is delighted to be able to help the Irish innovation ecosystem better link service providers with those looking for innovation.