Call for Cork based businesses to join
innovation marketplace
Skillnet Ireland announces the launch of The Innovation Exchange in the Cork region as part of its nationwide expansion
Cork, April 24th – Today Skillnet Ireland has announced the partnership of The Innovation Exchange, with The Ludgate Hub based in Skibbereen, Co. Cork. The Innovation Exchange is Ireland's innovation marketplace connecting large companies facing digital transformation challenges with small to medium sized (SME) technology companies that can fast-track the solution.
The initiative will allow globally ambitious tech SMEs located in The Ludgate Hub and the wider Cork region the unique opportunity to pitch to, and collaborate with, large companies looking to access innovation as part of a diverse and curated community of startups and scaleups. As part of this collaboration, The Ludgate Hub will bring both corporate entities and scale-up businesses situated in Cork together as members of The Innovation Exchange, expanding its growing community.
As the newest regional channel partner of The Innovation Exchange, The Ludgate Hub has a reputation of being diverse, welcoming and accessible for startups and SMEs. Ludgate, through its strategic partnerships with corporates, academia and investors, helps businesses grow through resources and support every step of the way.
Attending the launch, Simon Coveney TD, Minister for Enterprise, Trade and Employment and TD for Cork South Central, said: "It is fantastic to see the rollout of this collaborative programme in West Cork and across the South-West. This partnership between Skillnet Ireland, The Innovation Exchange and The Ludgate Hub is an exciting example of win-win collaboration and I would encourage all businesses to consider joining the programme. The development of an ecosystem in West Cork that facilitates SMEs and Large Corporates working with one another will undoubtedly ignite digital transformation and support opportunities for increased growth for these organisations."
Paul Healy, Chief Executive, Skillnet Ireland said: "The Innovation Exchange plays an important role in forging connections between SMEs and large corporations, facilitating new ideas and supporting the creation of new business ventures. As part of a national expansion of the programme, we are delighted to introduce The Innovation Exchange to Cork, in partnership with the Ludgate Hub and Furthr. We invite ambitious SMEs and larger companies in the Cork region to join the programme and take full advantage of the many benefits it offers."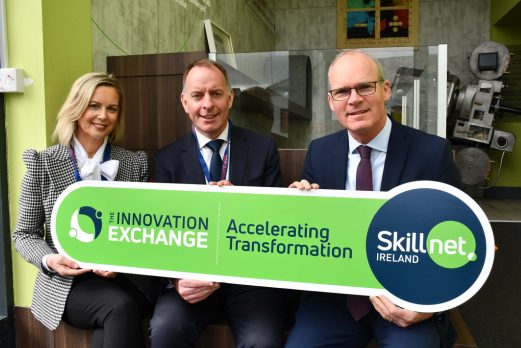 Speaking at the launch, Sinead O'Riordan, Head of Channel Partnerships at The Innovation Exchange commented on today's news: "We are thrilled to be collaborating with The Ludgate Hub, as we continue to bring our offering to SMEs and corporates across Ireland. Our main focus is to showcase the amazing talent and capabilities of the companies in the region, while also helping them to scale their businesses. We see this partnership with Skillnet Ireland as an opportunity to expand our network and leverage Ludgate's resources and expertise to support our members and drive their success"
Grainne O'Keeffe, CEO of The Ludgate Hub, said: "We are delighted to become a regional partner in The Innovation Exchange, along with the RDI and GTC, our fellow innovation hubs. This is an exciting forward thinking digital transformation marketplace that brings scaling and enterprise sized organisations together. It is very positive to see The Innovation Exchange leveraging the hub network and its extensive collaborative ecosystem as an economic asset in
the rollout of this initiative. And Ludgate, as Ireland's first rural digital innovation hub, is thrilled to embrace this opportunity to accelerate growth in the region."
The aim of The Innovation Exchange is to establish a nationwide footprint by onboarding up to 10 regional channel partners throughout 2023; earlier this year, The Innovation Exchange announced its partnership with the Galway Technology Centre, which supports innovative, global trading companies in the ICT sector. In March, The Innovation Exchange partnered with Kerry based RDI Hub to provide local SMEs with the opportunity to connect and collaborate with
innovation seeking larger companies. The expansion of The Innovation Exchange, which currently has in excess of 350 participants, will offer even more SMEs access to the programme's benefits, including an instant sales pipeline, market intelligence and the capability to sell to large companies. Skillnet Ireland has committed €5 million to fund The Innovation Exchange which is designed to address the barriers that exist for scaling companies when selling to large companies and multinationals. The programme will support over 1,000 companies between 2022-2025. Scale-ups and corporates in the Cork region are being encouraged by The Innovation Exchange to sign up here.
The Innovation Exchange offers participants a range of benefits including:
A qualified sales pipeline and getting face time with prospective customers.
Opportunity to pitch your solution to prospective customers.
Gaining insights into markets and companies which helps SMEs pitch their solution more successfully.
Tailor-made training designed to improve performance of SME members when selling to large corporates.
One-to-one mentoring to companies around preparing proposals, pitching to corporates and negotiating terms.